The Dogs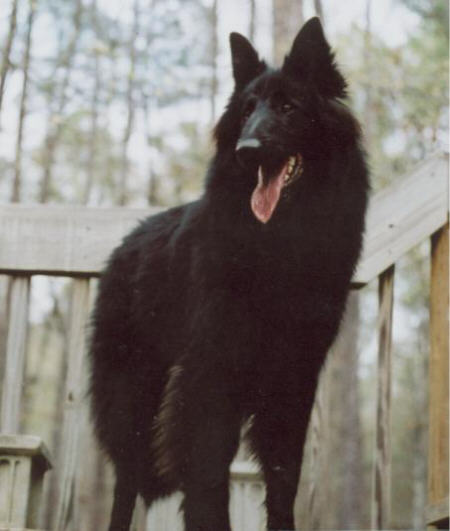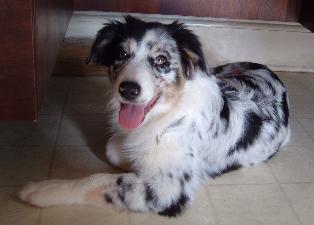 "Mojo", a Belgian Sheepdog (Groenendael), aka Rolin Ridge's Zenith. Sire CH Rolin Ridges's Ukon of Images, Dam CH Images Treasure O'Rolin Ridge. Breeders Linda McCarty & Renee Croft, Mechanicsville, VA. Our big happy boy.
Hmmm... I do remember recently saying something to the effect of "No more dogs for me!" I didn't even make it through the year....
But how could anybody look at Majik, a silver merle Aussie pup, and not want to take her home? She is one athletic, energetic piece of work!
In Memoriam:
"Obeah", a Belgian Tervuren bitch, aka Bene-Wende of Earlymoon. Sire UKC CH Omega Du Bois Du Tot, Dam CH Debelisi Irrespressible. Breeder Dawn McClain (Michigan).
Lost to us in January 2005. This was my special girl. I can't take the heartache. No more dogs for me, ever again!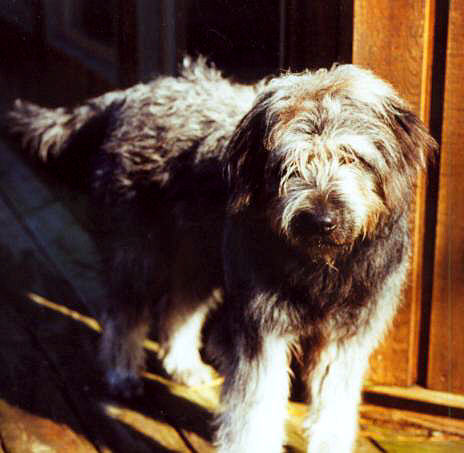 In Memoriam:
And then there was Goblin, rest her soul. One of God's failed prototypes, Goblin was "dropped" as a puppy and found her way to us through the woods. One glance explains why adopting her out was an unlikely option. Goblin woke up every day filled with life, love and indefatigable playfulness. Her heart failed from a congenital defect and she died suddenly on a sunny Summer day, in the midst of play -- one year after she chose us to be her life's companions.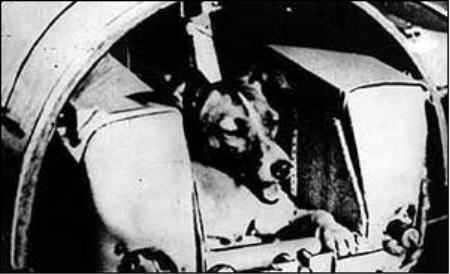 In Memoriam:
Recognize this plucky gal? "Laika", the first Earthling into space, circa 1958. Breed indeterminant. Those sonuvabitchen Soviet scumbags never had a plan for bringing her back home. Being closer to it when she expired, I'm sure her noble soul preceded us into the highest ring of Heaven. I hope she can still find it in her spirit-heart to speak well of us...